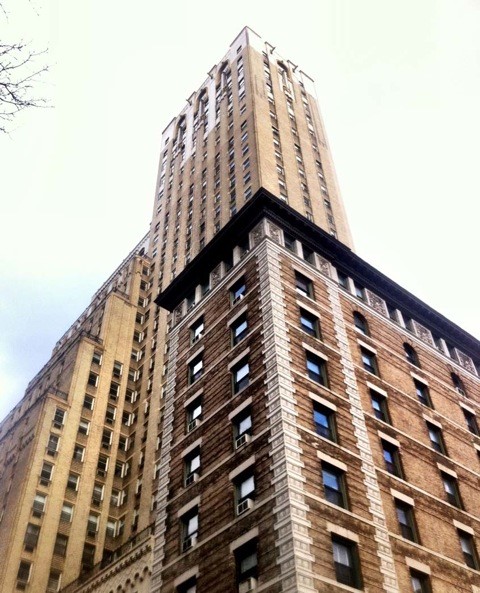 The St. George Tower, a 30-story Art-Deco masterpiece in Brooklyn Heights, was originally a triumphant addition to the famous St. George Hotel, the largest hotel in New York City for several decades. From its start in 1885, the St. George enjoyed phenomenal success and expanded several times over the next half-century, ultimately being composed of seven interconnected buildings encompassing a full city block.
The hotel was known worldwide for its rooftop restaurant, ballrooms, lounges and over 1000 guest rooms. The hotel frequently hosted celebrity guests as well as weddings, and other significant events. The legendary salt water pool was Olympic-sized with heated mosaic tiles and a waterfall.
The hotel suffered during the Depression but received a boost during World War II when it served as officers' quarters for the nearby Brooklyn Navy Yard. After again falling on hard times in the 1950s and 60s, the hotel buildings were sold to separate owners. In the 1970s, a developer joined the Tower and the adjacent Grill Building together, which became the St. George Tower co-ops in 1984. When it was converted into a co-op, the St. George Tower had 301 apartments. Now, with combination units where people have bought the adjacent or the above apartments, there are now 278 apartments, ranging from studios to 4 BRs. Apartments facing the north and the west have the wonderful city views. Apartments facing south and east get excellent Brooklyn views, often with very wide expanse of water views as well.
The roof deck affords a spectacular panorama of the city, featuring jaw-dropping views of New York Harbor and the entire Manhattan skyline, plus 360-degree views around the metropolitan area and New Jersey and Connecticut. Truly on par with the observation deck of the Empire State Building, the setting of the St. George Tower offers expansive urban vistas.
Brooklyn Heights has always been a lovely neighborhood and over the years it has only become more desirable. As the first fully landmarked district in the city, beautifully-maintained wood-framed homes from the 1820s and 30s and brownstones from the later 1800s establish the character of the neighborhood. P.S. 8 is now a magnet school, both literally and figuratively. Brooklyn Bridge Park rivals any park in the city for its setting amidst the Brooklyn and Manhattan Bridges and for its range of activities and programs, and DUMBO has a booming tech industry and numerous artisanal merchants and cafes. New restaurants, lots of families, and streets of beautiful brownstones have brought dedicated Manhattanites to Brooklyn Heights. Transportation connections couldn't be better, with a 2/3 station in the basement and nearly every other line within a few blocks, residents are 10 minutes from Lower Manhattan and 20 minutes from Midtown offices.
The St. George Tower is a landmark building with a rich history, and remains a very sought-after place to live.
Learn more about the St. George Tower at stgeorgetower.com